You are here
Back to top
Nigerian judicial panel condemns 2020 Lekki toll gate shooting as 'a massacre'
Endsars - Nigeria's military - Violence - Massacre
Wednesday, 17 November 2021
Nigerian judicial panel condemns 2020 Lekki toll gate shooting as 'a massacre'
Lethal violence committed by Nigeria's military on the night of October 20, 2020 could be considered a "massacre," a government-appointed panel concluded Monday -- contradicting previous official accounts of the incident.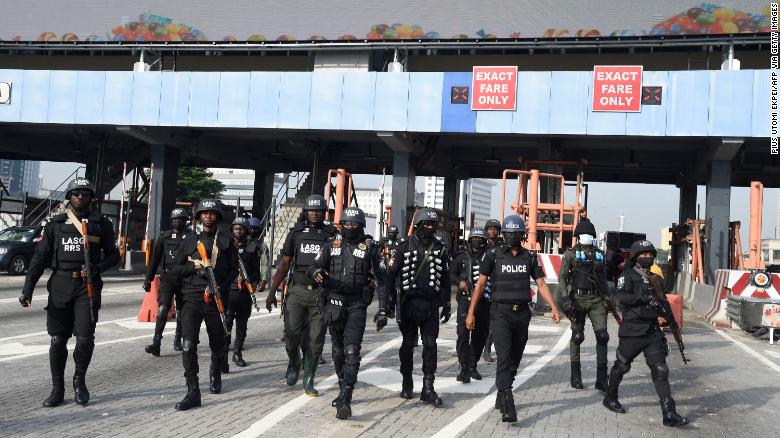 The Judicial Panel of Inquiry and Restitution at the Lagos Court of Arbitration had been charged with investigating last year's notorious Lekki toll gate shooting in Lagos, when Nigerian security forces opened fire on young people protesting peacefully against alleged police brutality.
Its bombshell report -- which took more than a year to produce -- accuses Nigerian Army officers of having "shot, injured and killed unarmed helpless and defenseless protesters, without provocation or justification, while they were waving the Nigerian Flag and singing the national anthem and the manner of assault and killing could in context be described as a massacre."
The panel also found "the conduct of the Nigerian Army was exacerbated by its refusal to allow ambulances render medical assistance to victims who required such assistance. The Army was also found not to have adhered to its own Rules of Engagement."
The panel's report underscores and repeatedly references previous reporting by CNN, which used time stamps, video data, and geolocation last year to analyze hours of video filmed by protesters.
CNN's investigation found the Nigerian army fired live rounds into crowds at Lekki toll gate, killing and wounding several people. Multiple witnesses also told CNN last year that ambulances were prevented from entering the site to help wounded protesters.
Next on CNN