You are here
Back to top
The world set a 2020 deadline to save nature but not a single target was met, UN report says
Aprnews - The world set a 2020 deadline to save nature but not a single target was met, UN report says - News - Environment
Thursday, 17 September 2020
The world set a 2020 deadline to save nature but not a single target was met, UN report says
In 2010, leaders from 196 countries gathered in Japan and agreed on a list of goals designed to save the Earth.
The Aichi Biodiversity Targets laid out a 10-year plan to conserve the world's biodiversity, promote sustainability, and protect ecosystems. The targets were ambitious, but crucial. One, for instance, aimed to prevent the extinction of threatened species and improve their status by 2020.
We've reached the deadline -- and the world has collectively failed to fully achieve a single goal, according to the United Nations' Global Biodiversity Outlook report, published on Tuesday.
"Humanity stands at a crossroads with regard to the legacy it leaves to future generations," the report warned. "Biodiversity is declining at an unprecedented rate, and the pressures driving this decline are intensifying."
If we continue our trajectory in the accelerating climate crisis, biodiversity will continue to deteriorate, driven by "currently unsustainable patterns of production and consumption, population growth and technological developments," the report said.
Of the 20 goals, only six have been "partially achieved." On average, the participating countries reported that more than a third of national targets are on track to be met; half of the national targets were seeing slower progress; 11% of targets show no significant progress, and 1% are actually moving in the wrong direction.
There is some scant progress to celebrate, but "the rate of biodiversity loss is unprecedented in human history and pressures are intensifying," said Elizabeth Maruma Mrema, executive secretary of the UN's Convention on Biological Diversity, in a press release.
"Earth's living systems as a whole are being compromised. And the more humanity exploits nature in unsustainable ways and undermines its contributions to people, the more we undermine our own wellbeing, security and prosperity."
What the world achieved
First, the good news: the past decade has seen some limited progress.
The six targets partially met are: preventing invasive species, conserving protected areas, access to and sharing benefits from genetic resources, biodiversity strategies and action plans, sharing information, and mobilizing resources.
The global rate of deforestation has fallen by a third compared to the previous decade. A number of places have successfully eradicated invasive species. Some countries have introduced good fisheries management policies, which helped build back marine fish stocks that have been hard hit by overfishing and environmental degradation
Bangladesh was recently ranked by research firm Maplecroft as the country most vulnerable to climate change, due to its exposure to threats such as flooding, rising sea levels, cyclones and landslides as well as its susceptible population and weak institutional capacity to address the problem. This aerial photo, taken by Ignacio Marin, shows where some homes used to be before the river washed them away. "From where I was standing, at the riverbank, it was hard to imagine that there were nine houses where I could only see water," Marin said. "So I decided to fly the drone. Only then, watching the area from above, I realized the scale of the disaster."
Sheep graze in the dry, dusty fields of Farmersville, California. "This image was made in 2014 while working on a short film about the ongoing drought in California," photographer Ed Kashi said. "Tens of thousands of acres of arable land was turning to dust, massive orchards were being ripped out due to a lack of irrigation water, and farmers and ranchers who for generations had worked this land were wondering if their way of life was sustainable." Intense droughts like the one that plagued California this decade are becoming more likely due to global warming.
Oil refineries are seen in Carson, California, in this 2017 photo taken by Edward Burtynsky for The Anthropocene Project, which explores how humans have contributed to climate change and the state the planet is in today. Part of the project includes a film, "Anthropocene: The Human Epoch," that opens September 25 in 100 theaters across the United States.
Two people are seen at an ice cave entrance on the Rhone Glacier in the Swiss Alps. Every summer, the glacier is covered with huge sheets of white fleece blankets to slow down its melting, according to photographer Orjan F. Ellingvag. "The fleece-covered cave attracts more and more tourists worried about global warming and wanting to see the remnants of a dying glacier," Ellingvag said.
A wildfire burns in Tocantínia, Brazil, in September 2018. In the Cerrado region, wildfires are common for two reasons, said photographer Marcio Pimenta. One is extreme heat. The other is farmers clearing space for soybeans and livestock.
This aerial photo shows Ejit, an islet in the Marshall Islands, in 2015. The islands are threatened by rising seas. "I flew a drone above the island showing just how precarious its location is: Homes clinging to the edge of an eroding coastline as unrelenting waves chisel away at what remains," said Josh Haner, a photographer with The New York Times. "After I saw what was happening on Ejit, I realized that climate change is not something nebulous that will only start affecting us in the future, but rather something happening right now. Residents are being forced to make the most difficult decision: Do they stay and build sea walls to buy some more time, or do they relocate?"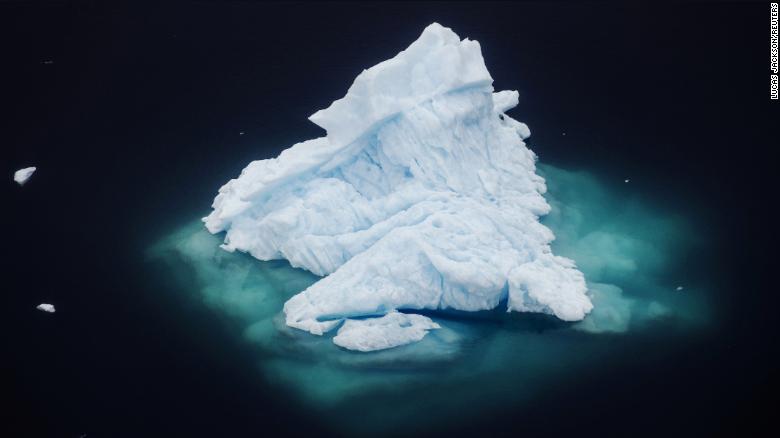 Photos: This is what climate change looks like
An iceberg floats in a fjord near the town of Tasiilaq, Greenland, in June 2018. Greenland is often considered by scientists to be ground zero of the Earth's climate change. The massive island is mostly in the Arctic, which is warming twice as fast as the rest of the planet. Melting ice from Greenland's ice sheet is the largest contributor of all land sources to the rising sea levels that could become catastrophic for coastal cities around the world. "Seeing the size of these icebergs in the water was like looking at entire city blocks floating around," Reuters photographer Lucas Jackson said.