You are here
Back to top
New Sound at Saudi Soccer Game: Women Cheering From the Stands
apr-news-Women-Arabia-Saudi / New Sound at Saudi Soccer Game: Women Cheering From the Stands
Saturday, 13 January 2018
New Sound at Saudi Soccer Game: Women Cheering From the Stands
NYTIMES - When the first goal was scored during the soccer game in Saudi Arabia on Friday, a new noise joined the ruckus in the stands: the sound of women cheering.
In the soccer-obsessed but ultraconservative Islamic kingdom, the match between the local teams Al-Ahli and Al-Batin in Jidda was the first time that women were allowed to attend a game at a public stadium, a new step in the government's efforts to loosen gender restrictions.
Saudi Arabia has long been one of the world's most restrictive places for women, where a combination of religion, social custom and government regulation has dictated what they wear and barred them from driving, holding a range of jobs and traveling as they wish.
But these rules have begun to change under King Salman, who became the Saudi monarch in 2015, and are driven by his son, Mohammed bin Salman, 32, the country's crown prince.
Prince Mohammed has removed powers from the religious police, placed women in prominent positions they would have never held before and vowed to lift the ban on women driving in June.
These efforts are part of broader reforms he is leading to restructure the Saudi economy away from its dependence on oil, temper the kingdom's religious rhetoric and provide new employment and entertainment options for the kingdom's large youth population, including women.
The decision to allow women to attend soccer games — albeit in "family sections" that keep them separate from the all-male sections — is part of these efforts. It also seeks to get Saudi families to spend more of their money on entertainment at home instead of going abroad to have fun.
Ahead of the soccer game, there was another small sign of change: the country's first car showroom dedicated to female customers was opened.
But for the soccer game, a former Saudi sports journalist shared a photo of female ushers preparing to greet the female fans and their families.
Women cheered as an announcer read the names of the players, and as the teams faced off.
Soccer is very popular in Saudi Arabia, with many fans of international and local leagues, but female enthusiasts long had to content themselves with watching their favorite teams on television.
Many women excited about the new ability to watch live games — as well as men opposed to this — took to social media on Friday, writing under the Arabic hash tags #FamiliesEnteringStadiums and #ThePeopleWelcomeWomenEnteringStadiums.
"This is more than women's rights," Fatimah S. Baeshen, a spokeswoman for the Saudi Embassy in Washington, said in a Twitter post, adding, "I'm rooting for the ladies."
"I do not see that letting women enter stadiums is wrong or forbidden," Manayer al-Qahtani also wrote on Twitter. "To the contrary, it does not go against religion nor against the customs and traditions. Many girls follow soccer and we gather at game time. It is a legal right for us."
But some people used the hash tag to criticize the event, writing that the place of women is in their homes, focusing on their children and preserving their faith, and not at a stadium where male crowds may curse and get rowdy.
The kingdom's stadium had not been built with women in mind, so modifications were made so that they could attend matches.
The government's General Sports Authority said this week that three stadiums had so far been modified to accommodate women through the addition of private sections for women and their male relatives, female bathrooms and even prayer areas.
Although tickets were only 20 riyals ($5.33), the family section for Friday's match was less than half full. But anticipation for the game was high on social media. People shared photos of female fans preparing to enter the stadium.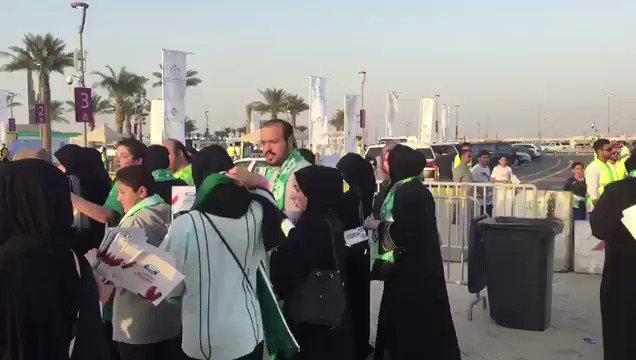 It was a far cry from 2015, when a Saudi woman who tried to attend a soccer game in Jidda was arrested after she was spotted by security officers wearing pants, a long-sleeve top, a hat and sunglasses to avoid detection, local news outlets reported.
Women will also attend a game on Saturday in the national stadium in the capital, Riyadh, as well as a game on Thursday in the city of Dammam.
On Friday, Al-Ahli trounced Al-Batin 5-0 in the Premier League match, according to the Saudi Gazette.
Reema bint Bandar Al Saud, a member of the royal family, attended the match and said on Twitter:
"Today, you brought happiness to every Saudi family and woman who attended the first game. This is a historic moment for the Kingdom."