You are here
Back to top
Miss World 2021 scandal: Yacé Olivia would have refused the expertise of COMICI
Olivia Yacé - Victor Yapobi - Miss World - APRnews
Thursday, 16 December 2021
Miss World 2021 scandal: Yacé Olivia would have refused the expertise of COMICI
A few hours before the Miss World contest, COMICI directed by Victor Yapo bi accuses OLIVIA Yacé of having refused their expertise and resources to support her as best as possible in the contest.
Here is the press release that rocked the web: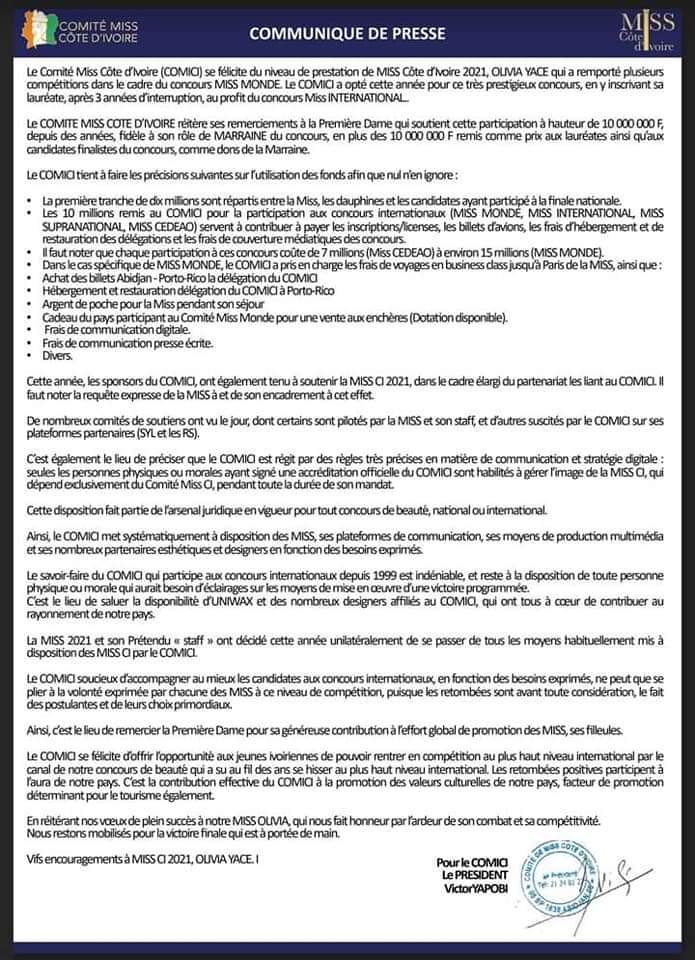 For her part, the reaction of Miss Côte d'Ivoire was not long in coming:
" WHEN THE LORD IS AT THE HEART OF YOUR PROJECT, NOTHING IS IMPOSSIBLE ... "
We have confirmation that the Miss Côte d'Ivoire 2021 has arrived at this stage of the competition on her own.
Read also:  Miss Ci tested positive for Covid
Reactions have multiplied on the web. And you, what is your opinion on the subject?
For now, the grand final of the Miss World 2021 competition will take place on Thursday, December 17, 2021, and all of Africa is showing itself for the historic victory of Olivia Yacé.
The editorial staff Aprnews