You are here
Back to top
APRNEWS : Grief-stricken Pakistani town mourns sons lost in Greek shipwreck
Touqeer Pervez, pictured with his niece, was on board the ship and is still missing.
APRNEWS : Grief-stricken Pakistani town mourns sons lost in Greek shipwreck
APRNEWS - Poverty drove young men from small Kashmir town to board ill-fated fishing trawler, say families
APRNEWS - The last time Mohammed Yousaf talked to his son, Sajid Yousaf, on 8 June, the son was waiting anxiously in Libya for smugglers to pack him and hundreds of others on to a boat bound for the other side of the Mediterranean.
Six days later, the overcrowded fishing trawler sank off the coast of Greece. Sajid, 28, a shopkeeper and father of two from the small town of Khuiratta in Pakistan-administered Kashmir, is among the hundreds missing, presumed dead.
"I never wanted him to go," Yousaf said through tears. "His elder brother also advised him against this deadly sea journey. It is like you are walking on fire and it can engulf you. We told him many times, stop it. We even asked him to come back from Libya."
On Monday, as tracking data cast further doubts on the Greek coastguard's account of the shipwreck, an initial investigation by police in Pakistan estimated that about 800 people were onboard. Witness accounts had placed the number at between 400 and 750. Greek authorities say 104 survivors and 78 bodies have been brought ashore.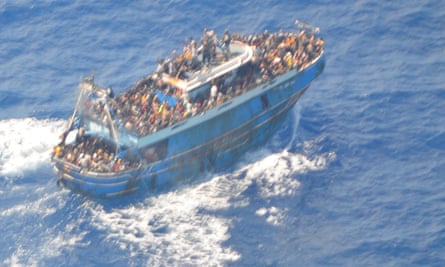 An image of the overcrowded trawler before it sank in international waters off the western Greek coast last Wednesday. Photograph: Anadolu Agency/Getty Images
Sajid Yousaf was one of 25 people from Khuiratta who boarded the boat in Libya. Only two are known to have survived. He planned to reach Italy, where his brother lives having made a similarly treacherous boat journey 12 years ago. In a video that has since gone viral, Sajid promised to bring a bicycle back home to his four-year-old son.
The Guardian talked to almost a dozen families in Khuiratta whose sons and nephews were on the boat. All said their relatives had paid 2.2m Pakistan rupees to an agent who promised to take them to Greece. Many families took out hefty loans to cover the costs. Most of those who undertook the journey were hoping to eventually reach Italy, where about 500 people from the area had previously relocated.
Sajid's cousin Touqeer Pervez, 29, was also onboard and is missing, leaving behind a pregnant wife. Pervez's father, a labourer in a brick factory, had borrowed money from about 20 friends and relatives to help pay the agent.
Like most of the people from the village who boarded the ship, Pervez left for Libya via a flight from Pakistan. He had worked in Saudi Arabia for two years to help pay for the trip, and left in May to begin his illegal journey to Europe. At 5am on 9 June, he sent a final message to his family to say he was on the ship.
"When I tried to stop him from this risky voyage, he told me that our living standards will never improve by living in Pakistan," said his father, Mohammad Pervez. "He was adamant to change our future and living standards. I don't know how to console his pregnant wife who has been crying for days."
Abdul Jabbar, 39, a baker with two children, had also hoped to reach Italy. He took a flight to Dubai on 5 June and then another to Libya. His father, Mohammad Anwar, said his son had called home in distress due to the conditions they were being kept in. That was the last time they heard from him.
"He told his brother that if he had known about the conditions in Libya, he would never have left," Anwar said. "They were given just a little bread in 24 hours and he said they were dying of hunger. He wanted to turn back but he was helpless as he had already given the money."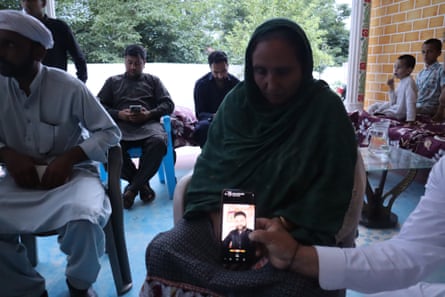 Rubina Kausar sits by a phone showing an image of her son Ahmed, 26. Photograph: Shah Meer Baloch/The Guardian
Rubina Kusar, a widow, said her son Ahmed, 26, left for Libya six months ago and endured terrible conditions at the hands of smugglers. She said they deprived him of food, beat him to try to extract more money from him and took his passport and other documents to stop him escaping.
"He was put in a dark cell for four days as a punishment after he had a fight with the agent because he refused 19 offers to go on a small boat and told the agent he was promised that the journey would be on a big boat," Kusar said. In a phone call with his wife before the boat departed, Ahmed spoke of his happiness that he was finally making the journey on a large fishing trawler.
"My son suffered a lot before his death," Kusar said. "At first at the hands of smugglers and then in the sea. He must have gone through excruciating pain. We need justice. The government has been in a deep slumber. Why did not our leaders wake up early? Don't they care about common people, common lives?"
People in Khuiratta said Pakistan's terrible economic situation and a lack of opportunities in their region were to blame for relatives making the journey. While many in Pakistan had previously taken a treacherous overland journey through Iran and Turkey to enter Europe, draconian policies by Turkey meant that more were opting to fly to Libya then get on a boat headed for Greece.
According to locals, about 100 people from the area are still in Libya with plans to board boats but have become uncontactable after smugglers switched off their phones.
"It is all poverty that pushed him to take this risky journey," said Mohammed Haneef, whose nephew Sameer, a tractor driver with six children, was among those feared to have drowned on the boat. "This poverty took his life. Poverty has engulfed the masses in Pakistan over the last few years. He saw people from his home town doing well in Italy, earning money to send home, and it pushed him to go."
So far, only two from the village, Haseeb and Adnan Bashir, are known to have survived the sinking of the boat. Adnan had been frustrated with the lack of local employment opportunities and had tried to reach Europe twice before, going via Iran and Turkey, but he failed after he was caught by border guards. In order to afford this journey, he sold all his buffaloes – his only livelihood – and his wife's jewellery before leaving on 3 May.
His father, Bashir Ahmed, a retired soldier, said he had spoken to his son through a relative from the UK. According to his account, the ship overturned after a rope was attached to it by the coastguard – an allegation rejected by Greek officials.
"Adnan said he jumped off the ship the moment it was going down. He said women and children were below in the deck and they could not come out," Ahmed said. "I am lucky that my son survived."
source : the guardian