ABIDJAN, October 21, 2015 — The first time Christophe Sere Konan heard about the World Bank Group-funded Emergency Youth Employment and Skills Development Project (better known by its French acronym PEJEDEC) in Côte d'Ivoire, two thoughts came to his mind: the first was "this is too good to be true," and the second one was "does this mean jobs for ordinary people like me?"
"It is too good to be real. I was sure that this was just another project for the children of the rich and powerful and their close friends. It couldn't possibly be for ordinary poor kids like us," Sere Konan recalls.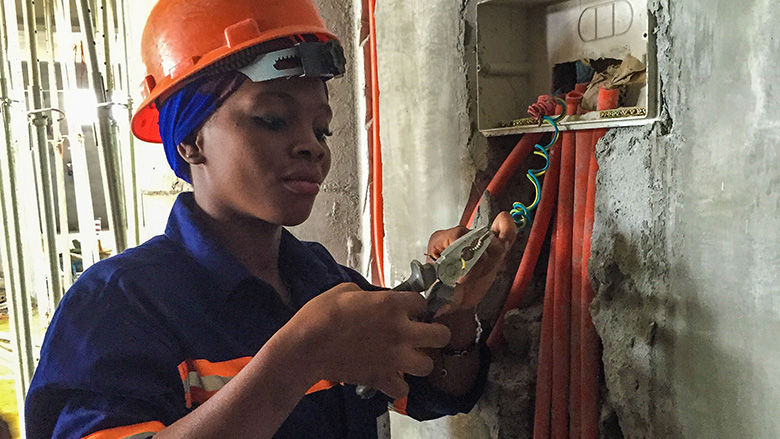 Sere Konan is not alone. Like him, thousands of young people in Côte d'Ivoire were surprised to learn about a project dedicated to providing skills development training, internships, and income generating activities for youth in their country.
PEJEDEC was launched in 2010, as Côte d'Ivoire emerged from a decade of violent conflict culminating in one of the worst post-electoral crisis in Africa. The build-up to the crisis dated back to the late 1990s, when the country experienced an economic downturn that was exacerbated by social and political tensions. The armed insurrection lead to the partition of the country into a rebel-held north and a government-controlled south, and the deployment of a UN peace mission marked the peak of the crisis.
The decade long crisis had a devastating effect on the country's institutions and sectors, halting progress in the education system and leading to high unemployment, forcing more Ivorians into hardship.
Many of the young people who had been active in the conflict joined the ranks of the unemployed at a time when the country appeared little prepared to address the challenge of job creation.
In September 2011, at the invitation of the Government of Cote d'Ivoire, the World Bank Board of Executive Directors stepped up to the plate, approving a $50 million International Development Association emergency grant for the country's Emergency Youth Employment and Skills Development Project.
Since its launch, the PEJEDEC has provided financial assistance for initiatives that have created employment opportunities for about 27,500 vulnerable youth. It also supports professional skills training aimed at improving the employability of youth and provides them a chance to gain work related experience, increasing their potential for future wage earning opportunities. Job openings are listed on the project website and applications are reviewed and selected through a transparent process.
Sere Konan along with many other young men and women are the first generation of PEJEDEC beneficiaries selected in August 2012 for a skills development training program at the Centre des Métiers d'Electricité (CME) – the in-house training facility of the power company.
After several months of training, the trainees went through placement tests and interviews and most of them were offered paid internships at the Compagnie Ivoirienne d'Electricité (CIE), the country's power utility.
A Sense of Autonomy
As of July 2015, about 60 youth were conducting internships at CIE, and the company is planning on welcoming more candidates. Each intern is paid CFAF 65,000 to help with transportation costs to and from work.
Like Sere Konan, a majority of trainees and interns participating in the program could not believe that PEJEDEC offered what it promised. Prisca N'Da N'Dri Yekou holds a degree in electronics engineering. After years of unemployment and despair, she had lost faith in finding a company that would recruit someone with her specific qualifications and profile.
"I am the only one of three girls in my family that is working, and my father proudly tells everyone around him that his daughter works at the power utility" said N'Da N'Dri, one of the few young women at CIE. "I can now help my family and sisters."
Sere Konan and N'Da N'Dri became permanent staff members at CIE with full benefits in January 2015.
Like CIE, several other private companies as well as state-owned agencies have also partnered with PEJEDEC to provide in-house training and internship programs to youth.
With the help of a friend, twenty-year-old Fatoumata Coulibaly, who wasn't able to finish high school, registered on the PEJEDEC website. She waited, without much hope of being ever called back. A couple of months later, she was asked to report to the National Agency for Professional Training, for testing and interviews.
Now on her third project with the Société Ivoirienne d'Electricité et Froid (SIDEF), Fatoumata Coulibaly says she is winning the daily struggle for gainful employment. She says her life has changed for the better.
"I am not there yet, but I am very pleased with what I have now. I have learned a lot through my training, and I am now looking at schools so that I can pursue a degree in electrical engineering. I am confident that I will get there one day," noted Coulibaly.
Coulibaly has been in training with SIDEF since November 2013. She receives CFAF 30,000 per month. The young woman is now a strong advocate of the project.
Sere Konan, N'Da N'Dri Yekou, and Fatoumata Coulibaly experiences are proof of PEJEDEC's success. They have become the project's ambassadors, raising awareness amongst their peers and mentoring their young friends in their communities. They all agree that PEJEDEC is real and that it is, indeed, changing lives, allowing young people to be active members of their families and communities.
Looking Ahead to the Future
PEJEDEC closed on June 30, 2015 after having reached 27,453 beneficiaries out of the 27,500 targeted by the project. With such a strong performance and the growing number of people entering the job market each year, stopping there would have been unfinished business.
In March 2015, the World Bank Board approved an additional $25 million to extend activities under PEJEDEC for the next four years. This second phase will target 31,500 youth in the age range of 18 – 35 compared to 18 – 30 under the first PEJEDEC.
However, a great number of youth still lack access to training and internships. For Traore Amidou Pierre, a staff member at a local bank called ADVANS and project beneficiary, the PEJEDEC's success is bittersweet. "I am grateful for PEJEDEC because I have a job and I can take care of myself. But I would like to see more young people benefit from the project from wherever they are in the country."